The Imperial Theatre is a 613 seat live performance venue with an unobstructed view from all seats. There are 478 Orchestra level seats and 127 Balcony seats. In addition there is street level wheelchair access from the Theatre foyer to an accessibility suite with 8 spots designed for patrons with mobility issues. With an engineered contour to the walls, the auditorium is acoustically excellent. The theatre is fully licensed with bars on both the main floor and balcony levels. The balcony and Nova Room are solely accessed by stairs from the Lobby..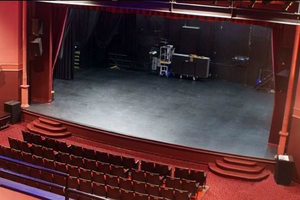 STAGE IMAGES
Technical Specifications
Imperial Theatre, Sarnia, Ontario. 
Updated : March 24, 2023
Seating Capacity 
The auditorium has a total of 613 seats. 

486 seats are orchestra (Ground) level. 

127 seats are balcony level. 

8 seats are in our accessibility booth. 
Loading Dock 
Vehicle access is via a One-Way ally off of Christina Street. This door is at ground level and there is a ramp leading down onto the stage deck. 

There are 4 reserved parking spots behind the theatre that can be used by artists & crew. 
Facility 
There is WI-FI distributed throughout the building and hardwired plugs are available in select locations. 

All dressing rooms are located behind the stage with access via stairwells on both stage left & right. 

1 Main large dressing room with ample lighting for makeup. 

- Includes plenty of chairs and a couch. 

- Large mirrors above all countertops. 

- Clothes rack, Ironing board and iron. 

- Sink 

3 Smaller dressing rooms 

2 Private bathrooms located in the hallway connecting the dressing rooms.

A green room is also connected to this hallway 

- Includes a sink, fridge/freezer, microwave, kettle & toaster 

- TV with a view of the stage 

- Table and chairs 

 There are NO SHOWERS available on site. 
Miscellaneous Equipment 
The theatre is equipped with Eartec Wireless Com with 8 headsets. 

The Theatre has a SKYJACK SJ III 3219 hydraulic scissor lift that is available for use to authorized personnel. 

A movable 9 ft Yamaha Series S Grand Piano is located on stage courtesy of the Sarnia Concert Association and is available for an additional fee. 
Rigging and Drapery 
The theatre has four easily accessible catwalks, one in front of house and three others on decks above the stage. 

The main curtain traveler is on a pulley system that is pulled from stage right. 

A traveler is located mid-stage on a pulley system and is pulled from stage right. 

A traveler is located upstage and must be pulled across the stage manually. 

There are 4 sets of stationary legs. 

There are Up-Down pipes running the depth of the stage spaced at around 4 feet 

There is a cyclorama located upstage of the back traveler
Staging 
The stage is 74' wide and 42' 9" deep. 

The stage is 36' wide at the proscenium 

There is 19' of wing space stage right and left. 

The proscenium is 18' high. 

There are 13x 4'x8' riser decks available (Heights of 12,16,18 or 24 inches) 
Power Distribution 
There are 4 15 amp circuits stage left and 4 15 amp circuits stage right 

The theatre has two sets of CAM-LOKS 

100 Amp Service w/ both 200A & 400A Terminals 

200 Amp Service w/ 400A Terminals 
Video Equipment 
Cyc hung from furthest upstage pipe (Must be dropped and piped)

Motorized projection screen 16'x24' hung from 2nd catwalk (controlled from stage right pin rail) 

2x Epson Pro L1715SNL SXGA+ - 15k Lumen Hung from 1st catwalk 

1 has an Epson ELPLU04 lens: Horizontal: ±18% (WUXGA) Vertical: ±60% (WUXGA)

1 has an Epson ELPLU03: WUXGA 0.48 to 0.57 throw ratio; sens shift — vertical: -24 percent to +24 percent, horizontal: -10 percent to +10 percent

HDMI inputs located in the control booth and onstage
Lighting Equipment 
We have 27 dimmable twist lock receptacles on FOH, and 6 on LX1, our furthest downstage catwalk. The system is run by an ETC Ion 1000 Lighting Board. 

All of the dimmers are on the first DMX universe, and all of the LED instruments are on the second.

The house hang has the following instruments in use:

9 High End Systems Lonestar Moving Profiles

12 Chauvet Colorado Tri-Tour LED Pars

12 Chauvet Colorado Quad-Tour LED Pars

2 Chauvet DJ Intimidator SPOT 375Z IRC

10 ETC Source Four: 19° 

10 ETC Source Four: 26°

4 ETC Source Four Jr. Zoom 25°–50° 

4 ETC Source Four Zoom 15°–30° 

2 Radiance Hazer

2 DMX Versa Fan

The following instruments are in storage and available for use: 

5 Microh iP65 LED Bars 

2 ETC Source Four Zoom 15°–30° 

1 ETC Source Four Jr. Zoom 25°–50° 

3 ETC Source Four, with 19°, 26°, 50° lenses 

8 Microh LED Par 64

4 Microh LED Zoom Quad

9 750w Fresnel

9 750w Fresnel on bases

1 ADJ UV Cob Cannon 

5 ADJ Fog Fury Jett

1 Chauvet Cumulus Low Fog Machine

9 Chauvet Intimidator SPOT 375Z IRC

2 Elation EN4 DMX Nodes
Lighting control is via sACN. If you require a direct DMX connection, a connection is possible via one of our nodes.

All lighting positions are accessible from the catwalks or via scissor lift.

All connections for conventional lights are 20A twist lock.

Each catwalk has four AC quad boxes providing constant power. In addition, LX1 has 6 twist lock receptacles on relays providing constant power. LX2 and LX3 each have 12 of these relays. Our entire house rig is currently powered by these relays.

There is a wall panel on SR with various options for house light levels and preset stage looks, for ease of use. Note: the Ion must be powered off for this panel to be operational 

House plot and channel hookup available from Production Manager.
Audio Equipment 
Imperial Theatre Sarnia System Information 
Equipment List 
The house sound console is a Midas M-32. 

There is an S-32 Digital stagebox mounted in the stage left pinrail that is the intake for all 24 channels of wireless mics. 

The stage is prewired for 12 monitor mixes 

There is a 40 channel split snake that runs from Stage Left to FOH

There is enough length to run the snake to upstage center with a 50 foot monitor whip. 
PA is an Adamson brand:
18x 971-0003 – IS7 Line Array Speaker 
4x 992-0010 – IS118 Subwoofer 
2x 994-0005 – IS119 Subwoofer 
4x 930-0026 – IS7/IS118 Rigging Frame 
2 x 930-0021 – Extended Beam 
1x 916-0023 – D120 (IS7x 12) 
1x 916-0024 – D80 (IS7x 6) 
1x 916-0023 – D120 (IS118x 4 – FB) 
1x 916-0023 – D120 (IS119)
The IS7 is a 2-way, full range line array cabinet containing 2x ND7- LM-8 Low-Mid drivers (2x 8 Ω) and an NH3-16 1.4" exit compression  driver (16 Ω). The critically optimized waveguide produces a slightly  curved wavefront with a nominal dispersion pattern of 100° x 12.5° (H x V). 
Monitors (12x M15):
The Adamson M15 multi-purpose loudspeaker features an extremely low profile, symmetrical pentagon design, with a 50-degree conical waveguide. This unique combination allows any two enclosures to work together in a mirror image monitor configuration.
https://www.adamsonsystems.com/product/m-series/m15
Sub-Compact Subwoofer 
The IS118 is loaded with a light weight, long excursion, 18" ND18-S  Kevlar® Neodymium driver utilizing Adamson's Advanced Cone  Architecture. The driver is mounted in an ultra-efficient front-loaded  enclosure, designed to reproduce clean, musical low frequency  information.  
The Audio inventory includes the following: 
Microphones 
4 X Shure SM58 

4 X Shure Beta58 

4 X Sennheiser E935 

6 X Shure SM57 

5 X Sennheiser E609 Silver 

1 X Sennheiser Drum Mic Kit 
Wireless Microphones 
18 X Sennheiser EW300 G3 Bodypack Transmitter 

6 X Sennheiser EW100 G3 Bodypack Transmitter 

6 X Sennheiser MKE2 - EW - Gold Lavalier (Beige) 

10 X Sennheiser ME2 Lavalier (Black) 

6 X Sennheiser EW300 G3 Handheld Transmitter 
Stands 
6 X K&M Telescoping Boom Stand 

4 X K&M Non-Telescoping Boom Stand 

3 X K&M Mini Telescoping Boom Stand 

4 X K&M Round Base Straight Stand 

10 X Music Stand 
Cables & Accessories 
10 X DI Box 

15 X 10' XLR 

20 X 25' XLR 

10 X 50' XLR 

10 X 25' NL2 SpeakON 

2 X 50' NL2 SpeakON 

5 X 10' ¼" Patch Cable
Dressing Rooms : Located beneath the Stage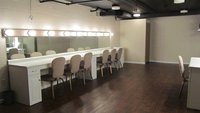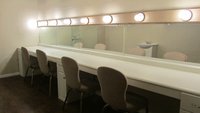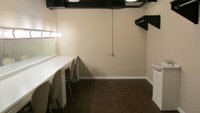 .